Please follow and like us: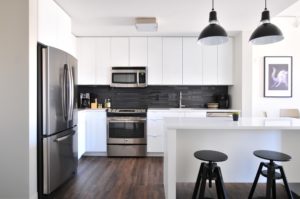 Remodelling your kitchen is the perfect way to give a new look to your home. A kitchen refacing project is not as tough as it might seem. A few tips would help you to ensure that it is a smooth process and you are able to remodel it exactly the way that you want. The first point that you need to look into is that there should be a proper plan for the project. Most of the times this vital aspect is overlooked and it might prove to be a costly mistake. It is a good idea to create an all-inclusive plan before you begin your project. Also, make sure to include the budget in the plan as well. The next point that you should look into is the space that you would be working with. There should be sufficient room for the cabinets, appliances and for you to cook and move around. Make sure to make the kitchen look spacious.
The last thing that you should look into is that the various surfaces in the kitchen such as flooring, countertops and kitchen cabinets should complement each other. Once you have the basic cabinets, you now have the opportunity to experiment with the kitchen cupboard doors. It is a good idea to find doors that will naturally mix with the other surfaces in the room, but there are a variety of styles and colours you can play with. From a bright red high gloss finish to a more traditional beech look, you can find some that will work with any type of decor. Kitchen worktops come in a range of designs and made from the highest quality of materials. Depending on which style you have chosen, there are beautiful worktops made from granite to marble available on the market. Another tip while remodelling your kitchen is to know the style that you want. This will help you while making choices on the design elements that you want in your kitchen. There is a wide array of colours and materials to select from. One popular but unique style choice is to have polished concrete worktops, this looks simple but will suit any type of kitchen. It would be stronger than other surfaces and scratches will be almost non-existent
Remodelling your kitchen can be quite an overwhelming process with so many options to choose from, including coloured glass splashbacks, solid surface countertops or readymade curtains to match your colour scheme and design or the thought of installing commercial fridges & freezers if you have a large family or host regular dinner parties. However, these tips would help you to design that dream kitchen that is perfect for what you need. If you are not sure you would be able to do the remodelling project on your own you might want to consider hiring a professional to help you to maintain style as well as convenience in the kitchen. House rubbish clearance services may also be something to consider after entertaining guests to ensure your new kitchen is kept in top condition.
Once you have planned your kitchen, found the surfaces and cabinets etc you will need to look into furnishing your dream kitchen, we strongly recommend you use oak furniture, it is an excellent material to furnish your kitchen and entire house with.